Unspeakably beautiful and majestic Jodhpur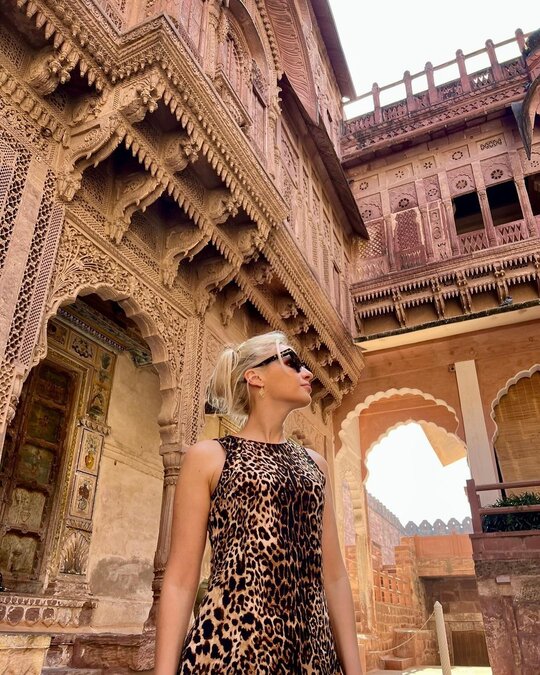 Unspeakably beautiful and majestic Jodhpur.
That place owns my heart.
Jodhpur City is also known as the blue city of India and the sun city of India.
I will soon release a series of posts about Jodhpur.
I feel deeply grateful for everything that I experienced in India and all the wonderful friends – people with noble hearts, that I am privileged to have there.
Jodhpur is an incredible place. Today I want to focus on one of the most unique places to visit: Mehrangarh Fort.
Mehrangarh Fort in Jodhpur is one of the most impressive works of ancient times.
The complex is located on a hilltop around 122 meters above the surrounding plain and was constructed c. 1459 by Rajput ruler Rao Jodha, though most of the existing structure is from the 17th century. Its walls are 6 meters thick in places.
Mehrangarh Fort contains some of the finest palaces and preserves in its museum many priceless relics of Indian courtly life.
The fort is spread over an area of 5 km and is built on a 125 m high hill on the outskirts of Jodhpur city.
There are seven gates, which can be used to enter the Mehrangarh fort. These 7 gates are made by different rulers and are built in honor of the victory over the Bikaner and Jaipur armies.
The Fort and its palaces were built over 500 years following its foundation in the mid-15th century. As a result, the varied building styles of many different periods are represented, including the 20th century. The abrupt transition from one era to another, as you progress through the buildings, is one feature that makes a visit so remarkable. From the top of the fort, we can enjoy the spectacular view of the blue city.
The head of the Rathore clan and custodian of the fort, Maharaja Gaj Singh II, has preserved the buildings and developed the museum as a record of the lives of his predecessors. His ancestors ruled the state of Marwar and over many generations built this architectural treasure, and it falls to him to ensure that their legacy is maintained and understood.